Past Friday, Sjef van der Steen visited the Uni Graz Natco team Kristina Gratzer and Robert Brodschneider at the University of Graz in Austria.
We had one full day of activities together.
The day started with the sampling at the university's own apiary. Sjef turned out to be a great assistant in the sampling process.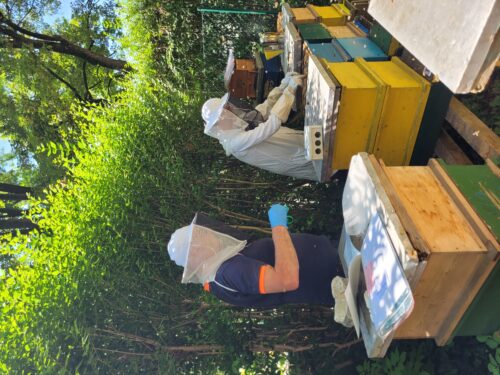 After we stored all samples accordingly, we visited a nearby restaurant for lunch and discussed the further program of the day.
The first goal was to visit Josef, one of the Austrian citzen scientists near Graz. We decided to take the country road, passing some small cities, woods,  loads of farming lands,  and even former study sites of Sjef.
When arrived at Josef's home, we followed his car up a hill and found ourselves in the woods almost 700 m.a.s.l,  where one of Josef's apiaries was situated. The location was absolutely peaceful and relaxing.
This time, the three of us assisted Josef during the sampling process. Together, the sampling was completed in a short time and we were able to spend the rest of the time by talking about bees, different ways of beekeeping and Josef told us more about honey dew production and even showed us his honey dew producers at the spruces nearby his hives.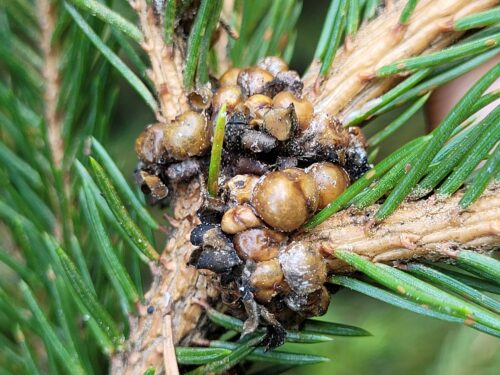 –
–
–
Even though we could have spent some more time at this apiary, we had to keep an eye on the clock, since we also wanted to visit another citizen scientist.
We did not leave right after though, since Josef invited us to taste his self-brewed beer at his home. Of course we accepted the invitation. And what can I say… We were not dissapointed at all. The Pale Ale, as well as the Wheat beer were delicious!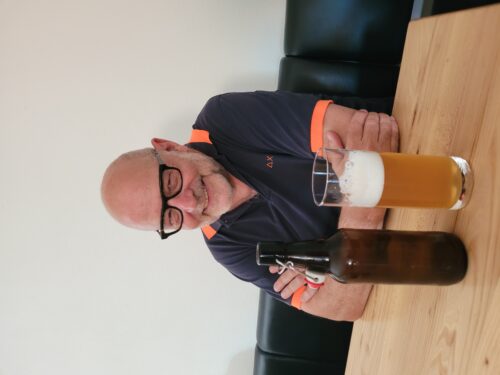 Thank you to Josef and his wife for their hospitality. The samples of the first three INSIGNIA-EU sampling rounds were trusted to us and we continued our journey.
On our way to Ernst, the next citizen scientist, we stopped by at the Riegersburg, a sightseeing spot in Styria. Riegersburg is a fortress that was built in the 12th century and has never fallen since.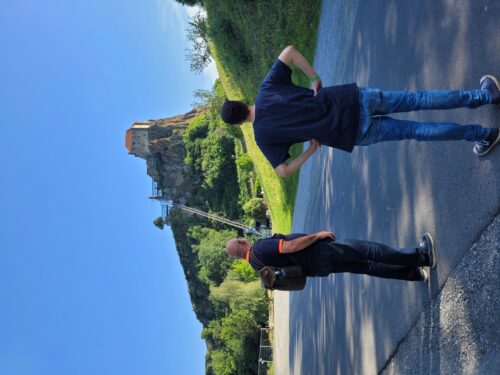 When arriving at Ernst's place, we could see his apiary already from afar.
Robert even had the association of a greek city on a hill. Ernst's organic apiary is surrounded by organic farming land – spelt, soy, wine – but also deciduous trees – chestnut, acacia.  This time, the work was already done and we had plenty of time to enjoy the view and talk about Ernst's way of beekeeping and what kind of history beekeeping has in his family.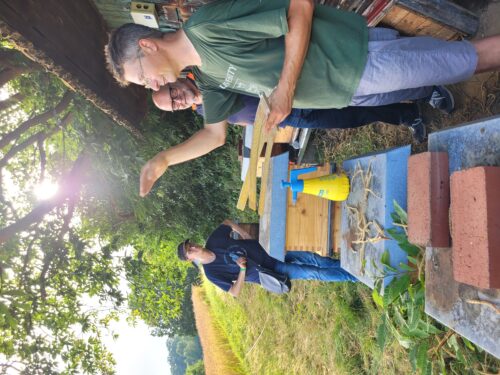 –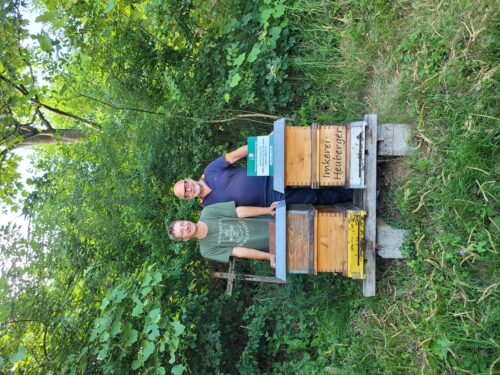 Since Sjef had no idea, what a "Buschenschank" is, we had to introduce him to the Austrian "Jausenkultur" by visiting one, Ernst recommended to us. For all the non-Austrian readers of this blog post: A Buschenschank is a business in which a farmer is allowed to pour and serve his products (drinks and cold dishes) and is based on a law of Josef II. Only owners or leaseholders of vineyards or orchards are allowed to operate a Buschenschank.
We enjoyed some very tasteful food and drinks and talked about everything under the sun with each other.
Since we still had quite a long trip to Graz, we decided to leave after having a digestiv called "Himbeerlikör" – well except for Kristina, who was the driver. First, we picked up Ernst's samples and after that, we said goodbye to him. Thank you Ernst for your hospitality as well. It was a pleasure!
When we arrived in Graz, the sun was already gone, but we still had to check the pollen traps of the university's INSIGNIA-EU hives. Nope! The bees needed one more sampling day to collect sufficient amounts of pollen for the study. So, we let the traps closed and stored the beekeepers' samples accordingly and declared the day full of nice experiences officially as over.
Kristina Gratzer