After all the time, the INSIGNIA-EU team has spent for the preparations, we have reached the moment for celebration of the INSIGNIA-EU pilot study start 2022. 
Today, May 19th until Sunday, May 22 marks the very first phase of the pilot study's sampling process – the installation period.
Within this time period, a total of 15 participating citizen scientist beekeepers from Austria, Denmark and Greece will install the first matrices. Those will stay in the test hives for two weeks and be sampled within the sampling period of sampling round 1 (SR01).
Austria prepared a short, video guidance for the installation period: 
1) How to: activate BLANK APITrap Sheet
2) How to: activate and insert APITrap Sheets for APITrap
Leave the foil on the "blank strip" and do not touch the sticky area.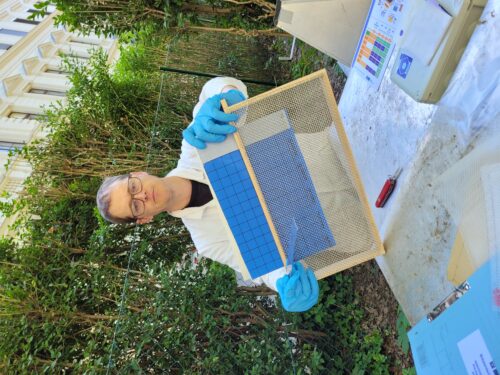 3. How to: insert the APITrap into the test hive
4. How to: prepare the APIStrips
5. How to: insert the APIStrips into the test hive
6. How to: prepare and insert the APIStrip in the box OUTside the hives
7. How to: insert the Silicone wristbands into the hive
8. How to: insert the Propolis grids
9. How to: De-activate the BLANK APITrap sheet again
The installation is done 🙂 
For a guide with photos (no videos click here)
For the compilation of videos in one YouTube Video click here
Kristina Gratzer