The INSIGNIA project is a pilot study initiated and funded by the EU, DG SANTE. The objective is the devising and testing of an apiculturist citizen science (ACS) protocol in which honey bee colonies bio-sample their environment and beekeepers collect samples from their bee colonies to detect the presence of pesticides in the environment. This is not a new concept, but the INSIGNIA project acts innovatively by using non-destructive sampling and developing and testing of non-biological sampling techniques. The INSIGNIA consortium consists of 16 participating organizations in a total of 12 European countries in the north, middle and southern zones of the EU. We started in November 2018, and on September 2019, the 10 fortnightly simultaneous samplings of year 1 in four European countries will be completed. The innovative non-biological matrices called "Beehold tubes" and "APIStrips" will be compared with the well-established biological pesticide matrices of trapped bee pollen and beebread, in order to ring test the best practice in 2020 in 81 apiaries in nine European countries. Furthermore pollen is collected and identified for botanical origin with molecular techniques to record the food sources of the colonies. Public involvement in the project is enhanced via our website and social media and via these short notes sent to stakeholders and all European beekeepers magazines.
To illustrate what is already accomplished in this project, we regularly post news, photos and videos, made by researchers or citizen scientists on our blog: https://www.insignia-bee.eu/blog/", on our website www.insignia-bee.eu, our Facebook page: insignia-bee, our Instagram account: @insignia_bee and our Twitter account: @insignia_bee.
Some informative photos of the INSIGNIA study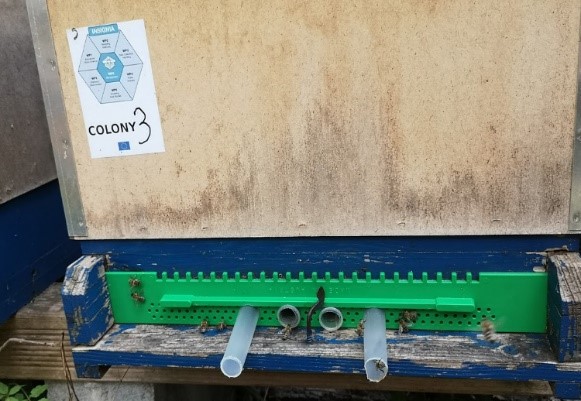 Photo 1
The non-biological matrix "Beehold tube" bees must pass to enter the colony. The Beehold tube is lined with non-specific "glue" PEG to which pollen and other matter from the bee's hair adheres.
Photo 2
Part of the year 1 study is the combination Beehold tube and pollen trap. The Beehold tubes are combined with the trap via a box which allows to do both sampling simultaneously
Photo 3.
Photo 3. Pollen is collected every 2nd week for one day. Pesticides are analyzed at the very best pesticide analysis institutes in Europe and the botanical origin is determined with molecular techniques
Photo 4.
ApiStrips are strips coated with Tenax, a substance that adheres pesticides molecules to the strip.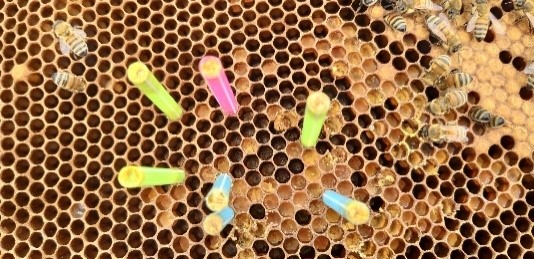 Photo 5
Beebread found in the combs of colonies is used to monitor the status of pesticides flux into the bee colony and the pollen sources.
INSIGNIA logo
On all notes INSIGNIA logo needs to be on
EU logo
EU logo needs to be on all press notes